The best digital marketing strategy for a brand will help you grow your business and make more money, but you need them on your side to do that. Before understanding digital marketing strategy, we must first understand the current trend of digital marketing.
What is the latest Digital marketing strategy trend?
Digital marketing strategy trend 2022
Short DIY videos
True Story
Concentrate your audience
Personalization
Content division
Digital marketing strategy future trend
AI-Powered Marketing
Customer Service Software
Micro-influencers
Augmented reality videos
Tactic #1 SEO
SEO is the first digital marketing strategy for a brand when it comes to digital marketing strategies, so think of it that way. It stops every person you want to reach, no matter where they are in your buying funnel.
Moreover, improve your website so that it shows up high in search engine results for keywords and phrases that are related to your business. SEO is the process of doing this.
When it comes to SEO digital marketing techniques, It catches every single person of your target audience, regardless of where they are in the purchase process. The reason for this is that practically every user uses a search engine to start their search for a new product or service.
Tactic #2 Pay-per-click (PPC) advertising
The second digital marketing strategy for a brand is PPC, it is a paid form of advertising that uses an auction-based system to get people to click on your ads.
With PPC, you bid on keywords that you want your ads to show up for. When a user searches for your keywords, your ad is shown. When people search for something, these ads will show up at the top of the list, above the organic ones. If someone clicks on your ad, you pay for that person to do so.
Tactic #3 Content marketing
What is content marketing? When you plan, make, distribute and share content, you're doing content marketing. You can do this through things like blogs, websites, podcasts, apps, press releases, print publications, and a lot more. There are a lot of ways you can try to reach your target audience and make your brand more well-known, popular, and profitable.
Tactic #4 Email marketing
Email marketing is all about keeping customers and getting new ones. It's a great way to build brand awareness, keep your company in people's minds, and encourage them to make more purchases.
Furthermore, people who sign up for email marketing can get newsletters with news about the company, or special offers for people who want to buy things from the company. There may also be times when marketing emails try to spread a general message on behalf of the company, like when there is a disaster or a problem with a business.
As a business, email marketing can help you stay in touch with your customers as well as make your marketing messages more personalised for each one. The spam emails can drive people away from this kind of marketing at its worst.
Tactic#5 Social media marketing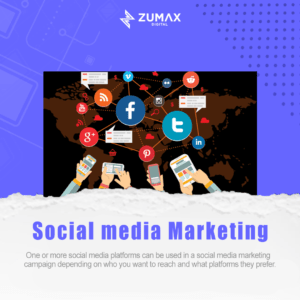 Social media marketing also as one of the digital marketing strategy for a brand, it is all about increasing brand awareness and making more sales. One or more social media platforms can be used in a social media marketing campaign, depending on who you want to reach and what platforms they prefer.
Some of the most popular platforms for Social Media Marketing are:
Facebook
Twitter
Instagram
Pinterest
LinkedIn
Tactic#6 Video marketing
Video marketing is when you use videos to tell people about your product or service and get them to buy it. It helps you get more people to interact with your digital and social channels, teach your audience, and use a new way to get in touch with them all at the same time.
Besides, when business makes videos for its customers, like content marketing and email marketing, it tries to make them useful and informative.
A few types of videos that can be used for video marketing:
Instructional
Announcement
Behind-the-scenes
Event
Moreover, In social media posts, why should we use videos? 
People will see you more on social media feeds if you stay longer.
Get more attention and interaction.
People will be able to better understand your product.
Stand out even more.
A more personal way to connect with your audience.
They are a great way to sell things.
Rank higher in search are becoming more popular on all kinds of platforms.
Are you interested in  how to using digital marketing strategy to built your brand? , START NOW!