Delivery is no longer a complement to the catering market, but rather a completely new market that merchants are continuing to grasp as the takeaway market matures and its role in the catering business grows.
So, how can delivery sell effectively, while still selling their cultures and profits?
Methods of marketing are important:
1. Festival Marketing
The relevance of festival marketing is self-evident for the catering business, as Malaysia is a multi-ethnic country, and each festival is extremely popular with all ethnic groups. To improve the brand's image and consumer stickiness.
If done correctly, it will encourage spontaneous consumer praise and the dissemination of friends, resulting in a positive publicity effect!
2. Packaging Marketing
Take-out packaging's brand impression has a direct impact on customers' brand perception, and the "forced style" of packaging emphasises a brand's consumption level.
In traditional Chinese cuisine, the user's initial impression of the dish is frequently the dish's presentation. As a result, the dish's quality is likely to have a direct effect on the user's perception of the dish's worth.
Take-out packaging is, in some ways, the "loading" of the catering sector in the Internet age. When users order take-out, they may sense the restaurant's grade intuitively through the packaging. The packaging reflects the "mood and décor" of the restaurant.
3. Giveaway marketing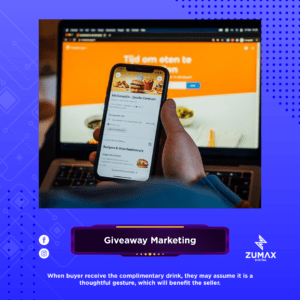 Merchants provide complimentary beverages to satisfy people and improve the consuming experience.
When buyer receive the complimentary drink, they may assume it is a thoughtful gesture, which will benefit the seller. Indeed, if the merchant does not send it, we must order it ourselves.
4. Memo marketing
Customers who order thru delivery app or online use their cellphones. Therefore, customers and enterprises do not have direct communication.
Furthermore, for merchants, those with too many orders will forget any knowledge about their clients, while those with less orders will not want to bother them, resulting in no engagement or communication between merchants and consumers.
So, how can the merchant boost the repurchase rate in this situation without forming an emotional bond with the customer? the memo marketing strategy of communicating with clients via short notes has piqued the customer's interest.
5. Membership marketing
Because most member customers are "old customers" with a high level of loyalty, membership marketing may be considered one of the keys to the success of delivery services.
The industry's "making money" key is figuring out how to maintain "old clients" and excel at membership marketing.
After becoming a member, customers can earn points for their usage. They may get additional perks and rewards with points, and they can help members build a habit of ongoing consumption.