Christmas is a holiday for cross-border e-commerce marketing as well as a season of commitment and friendship. Christmas marketing has grown quite popular and widespread. Indeed, Christmas would be incomplete without commercials on television and on social media sites. This is due to the fact that large corporations have learnt to exploit holidays to promote themselves throughout time.
1. Use social network gifts to reach more users
One of the
most efficient strategies to enhance sales of Christmas marketing efforts is to use social media. Facebook, one of the most prominent social media networks, is a good place to start for cross-border e-commerce. With 1.69 billion active members, Facebook continues to be the most popular social networking platform.
Social media sites such as YouTube and Instagram may also be used by businesses. YouTube will have 2 billion active users by 2020, while Instagram will have 850 million. This obviously demonstrates the social media platforms' potential.
All cross-border e-commerce firms need to do is share a simple gift across all of their social media accounts. You may broaden your brand's reach and visibility by giving presents. Make sure the award, however, is related to your company and valuable to potential buyers. The interaction between merchants and potential clients will be strengthened as a result of this.
Furthermore, be sure to reference to the gift regulations in plain, simple terms. This will entice your target audience to take part in your giveaway.
2. Generate leads through email marketing
Despite the fact that social media has taken over the marketing industry, email marketing remains one of the most cost-effective methods of generating leads. It may also assist firms in strengthening their ties with potential and current consumers.
According to Campaign Monitor, every dollar spent on email marketing may provide a $44 return. However, how can email marketing be used to drive Christmas sales?
Make sure to send an email message to your target group every two weeks or every week throughout the Christmas season. However, if you want to attract potential clients successfully, you must make sure that you present them with interesting and relevant information.
The greatest time to inform potential clients about promotions and discounts is around the holidays. You may also alter the email style to coincide with the introduction of a new product or service. During the Christmas season, this form of communication may assist raise company recognition and provide discounts.
If done right, this Christmas marketing effort has the potential to treble a company's holiday revenues. Manually sending emails, on the other hand, might be time-consuming. As a result, automating email marketing is the greatest way to get the most out of this technique.
3. Increase Christmas sales with coupons and discount codes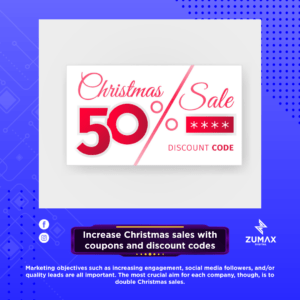 Marketing objectives such as increasing engagement, social media followers, and/or quality leads are all important. The most crucial aim for each company, though, is to double Christmas sales. What could be more practical than discounts and promo codes?
Current and new clients would appreciate discount codes and coupons if they are used effectively. This Christmas marketing effort has the potential to bring in a lot of money. Consumers that use coupons and discount codes, on average, spend 24% more than other customers.
Merchants can also provide free delivery to customers to stimulate more sales. When potential consumers join up or subscribe to the email, give them a discount. When it comes to using coupons, there are no hard and fast rules.
4. Use Christmas PPC vocabulary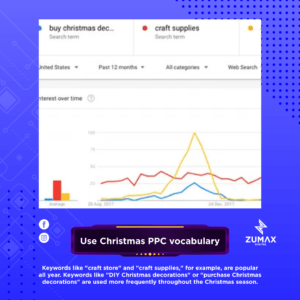 During the Christmas season, large companies face stiff competition. As a result, businesses must adapt their advertising efforts to include seasonal keywords connected to Christmas in order to stand out from the competition.
Keywords like "craft store" and "craft supplies," for example, are popular all year. Keywords like "DIY Christmas decorations" or "purchase Christmas decorations" are used more frequently throughout the Christmas season.
5. Design an attractive Christmas landing page
It is not enough to advertise and promote throughout the Christmas season. Merchants could also create a Christmas landing page to capture potential consumers' interest and convert them into paying clients.
After visiting a merchant's website, the first thing potential consumers and customers will see are landing pages. As a result, you must make the landing page more appealing, entertaining, and interactive. On the landing page, you may also include a video. Including a video on a landing page may boost conversions by 86 percent.
A festive Christmas greeting should be added to the landing page. Suitable for making touch with potential consumers. This will also pique the curiosity of potential clients, encouraging them to keep shopping.
Christmas is the most wonderful time of the year for both companies and customers. During the Christmas season, many look forward to spending more time with their families and friends. They want to lavishly present gifts and celebrate the event. Of course, prominent firms want to take advantage of the holiday season to boost sales and profits by implementing efficient Christmas marketing strategies.
Christmas is approaching quickly, but it's never too late to plan a successful Christmas marketing campaign.