SEO Specialist should do what? Many people who don't know SEO think that SEO is just writing articles and sending links to other websites. Do you know SEO is a lot more than that?
Analyze the crawling column of website spiders to see those with high frequency, those that are not crawled, new posts do not include whether web spiders are crawling, etc. Various status codes such as 404, 301, 200, etc. appear, and find out and deal with the problematic ones
In addition, we can use the main functions of Google Search Console to conduct statistics to see the high frequency of clicks on the page. We can focus on research and analysis of why the user information of the enterprise is highly clicked, and then postpone it to other columns.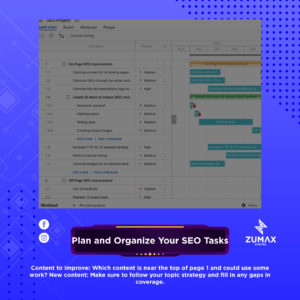 When putting together the most important SEO tasks to work on, keep in mind:
Content to improve: Which content is near the top of page 1 and could use some work? Which of your most important pages aren't getting as much traffic and organic search rankings as they used to?
This is a list of important crawler alerts (example: 404 errors or missing page titles for major pages)
New content: Make sure to follow your topic strategy and fill in any gaps in coverage. Create new content based on how many people search for a certain word and how likely they are to buy (or likelihood to draw in potential customers).
3. Make changes to your SEO topic strategy
Review your most significant themes and subtopics on a regular basis, and look for fresh content possibilities that address frequently asked questions by your target audience.
Look at what your rivals are writing about and connect with your sales or customer service teams to find out what questions they are regularly asked. Moreover, validate subjects and subtopics using  SEO traffic statistics before incorporating them into your plan.
4. Examine the Featured Snippets and Rankings.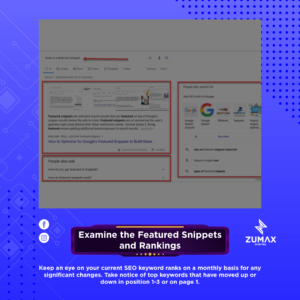 Keep an eye on your current SEO keyword ranks on a monthly basis for any significant changes. Take notice of top keywords that have moved up or down in position 1-3 or on page 1.
Examine organic traffic statistics from month to month and year to year to find pages that are losing traffic and should be upgraded.
Examine your most popular pages on a regular basis. If you detect a dip in ranks for your main keywords or a regular decline in organic traffic week after week, mark those sites for future investigation.
GET SEO Services consultation now!