First I would like to let you know what is Web Design, you will also gain the concept of relationship between web design and SEO. Then, will introduce to you the famous agency in Malaysia that provided this services.
What is Web Design?
When we talk about web design, we're talking about the visual appearance of websites as they appear to users online. Instead of software development, it generally refers to features of website development related to user experience (UX). Long time ago, this services was all about developing websites for desktop browsers, but since then, mobile and tablet has taken over.
Why you need Web Design?
As a part of your SEO strategy, it helps. There are several  aspects and practises that have an impact on how search engine spiders explore and index your website, which in turn impacts your website's SEO. Moreover, SEO and web design are interconnected, and more  designers are incorporating SEO into their designs. The value that SEO offers to the design process is something that company owners should be aware of.
It builds trust with your audience. People do not trust websites that are badly designed. They will not trust your site if it has a terrible appearance or if the information appears to be out of current. Because you don't have an updated design, they may see your site as sleazy or nefarious.
Content and Visual Elements. These include font selection and other typographic features. Such parts of design should complement one another in order to provide an accurate message to the audience. Readers are more likely to recall a message that is simple and one with which they can identify.
Who can help?
There are several web design agency that will provide you their professional service in Penang, but the most relevant is Zumax Digital, a Malaysia's premier web design and digital marketing firm. They have designed and developed clean, stunning, mobile responsive, and SEO friendly websites for hundreds of businesses across the world.
Zumax Digital
Zumax Digital is a full-service firm headquartered in Malaysia that specialises in website design, development, maintenance, hosting, and marketing. They like creating one-of-a-kind, user-friendly, mobile-responsive, and entertaining websites design for their clients.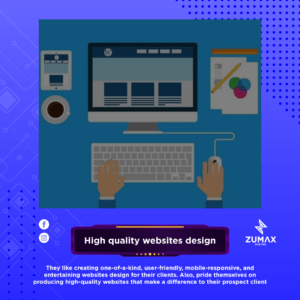 They pride themselves on producing high-quality websites that make a difference to their prospect client. Furthermore, they have extensive expertise dealing with a variety of sectors and consistently personalise their services to match the specific needs of their clients. It means the different category of business of the client require different style of design for their business website. GET Web Design consultation now!
Example of website design style they are professional at:
Other web design company in Penang and Malaysia:
Inspiren network sdn bhd
IS Eleven sdn bhd
Care design studio