01 Breakfast shop VS Mini Market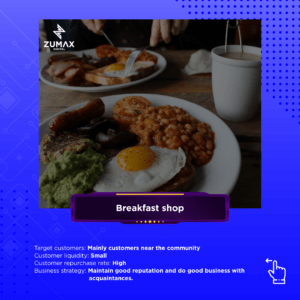 There is a pretty good breakfast shop which close the place I live. They have help me to receive my parcel or borrow an umbrella to customer. Therefore, there are a lot of people go there for breakfast.
Another one is a mini market which also available in the same area. Many people come and go also, the boss has a cool attitude and sometimes sells fakes products . One of my friend once bought fake cigarettes there.
Why do the breakfast shop and the mini market have such different ideas about how to do a business?
From the perspectives of target customer groups, customer mobility, customer repurchase rate, and company strategy, we investigate:
A) Breakfast shop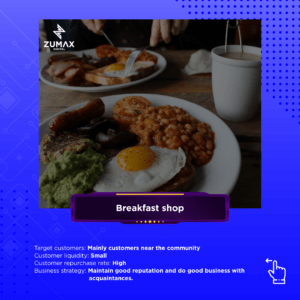 Target customers: mainly customers near the community
Customer liquidity: small
Customer repurchase rate: high
Business strategy: Maintain good reputation and do good business with acquaintances.

B) Mini Market

Target customers: mainly people who come to shop
Customer mobility: large
Customer repurchase rate: low
Business strategy: occasionally selling fake goods is more profitable.
These two businesses are classic examples of acquaintance and stranger business. They followed two divergent business logics: familiar business aims to maximise long-term advantages, whereas stranger company aims to maximise short-term gains.
02 Awaken the customer
In reality, there are more types of business involving strangers and acquaintances.
There are companies with strangers and acquaintances, in other words.
This breakfast restaurant, for example, is frequented by many passers-by, while this commissary is frequented by regular customers who work and reside nearby.
We need to wake up our clients because, in addition to leveraging word-of-mouth to generate excellent business with acquaintances, if we can convert a stranger business into an acquaintance business, it will be a new additional market.
The following is a compilation of current emerging trends that share two methods for reawakening clients.
A) Digital Marketing
This is a very new marketing strategy, and it appears to be quite lofty.
It's what I call doing marketing and advertising for a community of like-minded people or people who have similar requirements.
B) KOL Marketing
The online celebrity economy, the online celebrity carrying products, the online celebrity check-in, the online celebrity face… Suddenly, a spring wind blows, as though there are online celebrities all about.
Celebrities on the internet appear to be both close and far away from us. The ones that are close are frequently visible on various platforms, while the ones who are far away appear to find it difficult to do so for themselves.
03 Merchant wake up
As a consumer, we have the ability to turn a strange business into a familiar business.
Here's an example of a mirroring concept: business wake up.
The advantages of using acquaintance merchants are self-evident, especially when dealing with items and services that are often exchanged. Like the breakfast shop mentioned earlier, acquaintance merchants can reduce communication, transaction costs, be more secure, and even gain some extra experience.
Build a positive relationship with the company, join its membership programme, and so forth.